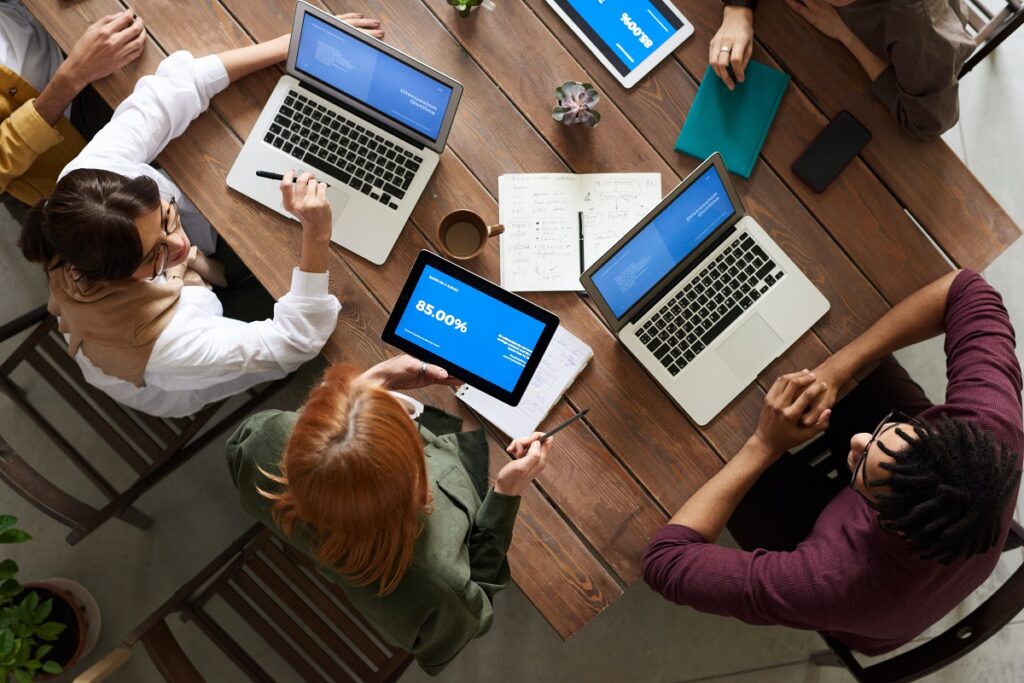 The Must-Have Technology for Sales and Marketing Teams in 2022
Martech (Marketing technology) is always evolving. There are always new trends, new tools and new software promising to transform how your organization operates. And you don't want to be left behind.
You want your sales and marketing teams to have the best chance at success this year, so let's look at the newest trends, the most sought after tech and the must have software for 2022.
1. A strong CRM
There's nothing new or revolutionary about a customer relationship management (CRM) system, yet it still remains a massively important focus for sales and marketing teams that want to succeed in 2022.
You need a CRM that integrates seamlessly with your operations, that both Sales and Marketing can interact with so they can work together efficiently. Salesforce continues its rise as the go-to CRM for leading organizations, and its native tools can be hugely beneficial.
2. Powerful analytics and data reporting
Data – big, small or anything in between – is another area that's predicted to dominate the focus of organizations in 2022. And it's absolutely essential for sales and marketing teams.
Almost 75% of businesses said they'll be using reporting and analytics software to track and measure their marketing ROI in 2022. Your marketing and sales teams will want to do the same.
Make sure the tools you have can track content performance, and monitor how sales reps use content with a real-time dashboard. Software like Data Dwell can help you do both.
3. Automated marketing tech
Any way to automate the marketing, sales and customer experience will always be popular among your teams, and automations continue to be a big trend in the wider tech world. There are a huge number of tools to explore.
Email marketing will always be a good place to start, if you haven't already. There's lots of software like Mailchimp or Constant Contact (or indeed email tools built into your CRM) that can automate email drips and split test emails.
But also explore tools like Hunter, that automatically collect and verify prospect email addresses, before sending cold outreach emails.
4. AI and chatbots
Year after year, the arrival of 'game-changing' AI is promised. But while artificial intelligence isn't there just yet, it can still play a big role in your success in 2022.
The human touch will always be vital, but chatbots can support that customer experience, and deliver while your teams are offline. They can eliminate some time-consuming sales and marketing tasks , freeing them to focus on more important areas of the funnel.
AI can give your prospects access to content – to demos, case studies, product brochures and more – as and when they need it. And it can personalize your content, an essential step in improving your sales this year. Reports show that 80% of consumers are more likely to choose a brand that personalizes their experience.
5. Visual content creation
This year, the trend towards highly visual, story-driven content continues, so any tools that help marketing create that type of content will be highly beneficial.
According to Venngage, 93% of all communication is visual, which is why visual content is far more likely to attract our attention. They say 65% of us are visual learners, while 62% of Millennials claim they're more interested in visual search than any other tech.
Software like Venngage, Canva, Shorthand and Adobe Creative Cloud are going to be hugely important to your marketing teams, if they want to create the content that can capture your prospects' attention.
6. Audio and video sharing tools
That trend towards story-driven content isn't just focused on visuals. Audio is playing a growing role too. iHeartMedia CMO Gayle Troberman says "Consumers now spend one-third of their media time with audio … audio is now the most accessible medium."
You might want to invest in podcast technology to create new, audio-focused marketing material, or software that lets your sales team share quick, simple audio recordings with prospects.
Conversational marketing is a trend that's on the rise this year. That might be as simple as sales reps picking up the phone more often to speak directly with customers, or it might be the use of video recording software like Lumen5, Vidyard or Accordium to deliver personal, video messages to prospects to help close those deals.
7. Bespoke project management
The success of any organization arguably rises and falls on the effectiveness of its project management software.
Take the time to find the project management tools that work for both your sales and marketing teams. Asana is one of the top rated, and Monday comes highly recommended, but there are many others. Look for options that support both departments and sync together seamlessly to help them work together more efficiently.
It's a simple tip for success in 2022, but a highly effective one.
8. Simple signature integrations
Another simple piece of software that will help Sales succeed this year is e-signature software.
It streamlines the process of creating, sharing, and tracking those contracts detailing a deal, and it helps your team collect verifiable signatures to close it.
The best options will integrate seamlessly with your current workflows and processes; PandaDoc and Docusign are good places to start.
9. Software that goes beyond sales enablement
Finally, one of the most effective ways for your sales and marketing teams to succeed this year is to look beyond sales. To focus their efforts on revenue opportunities beyond the traditional sales funnel.
Software like Data Dwell helps them do just that, by helping organizations shift their attention to revenue enablement.
Marketing uses it to position content throughout the entire customer journey, and Sales uses it to support Customer Success in driving more retention, more upselling and more cross-selling opportunities.
It's the must-have software for commercial teams to drive success and deliver revenue this year.